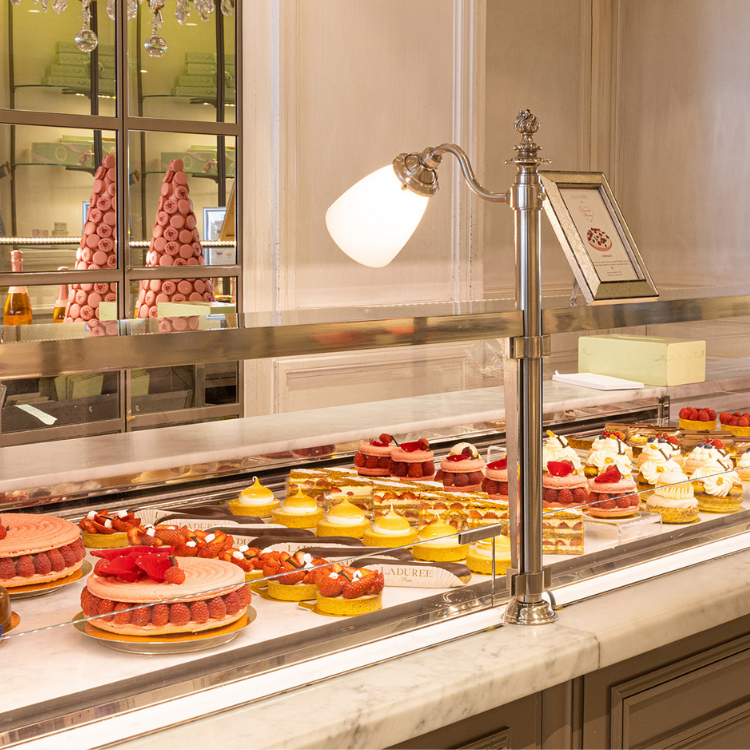 Introduction
PLEASE READ THESE TERMS AND CONDITIONS OF USE CAREFULLY BEFORE USING OR ACCESSING THE LADURÉE WEBSITE at https://www.laduree.us/, INCLUDING ANY OF ITS RELATED PAGES AND SERVICES OFFERED THEREON (the "Website").
 
By using or accessing the Website you confirm that you acknowledge and assent to the terms and conditions of use (the "Terms of Use") set forth herein. If you do not agree to these Terms of Use, you may not access or otherwise use the Website. Ladurée may modify these Terms of Use at any time and from time to time by updating this posting, and your use of the Website after such modification confirms your acceptance of the modified terms. Please check these Terms of Use periodically for modifications. Ladurée may change, suspend, or discontinue any portion of the Website, at any time for any reason and without notice, without incurring any liability whatsoever related thereto.

This Webiste is owned and operated by Ladurée USA Inc., a Delaware corporation ("Ladurée," "our," "we," or "us"). Questions concerning the Website, or the operation thereof, should be directed to the contact information set forth at Section XIX of these Terms of Use.

I. Customer Representations
You hereby represent and warrant that you are either eighteen (18) years of age or older, an emancipated minor, or possess legal parental or guardian consent, and are fully able and competent to enter into the terms, conditions, obligations, affirmations, representations and warranties set forth in these Terms of Use, and to abide by and comply with these Terms of Use. By using this Website, you represent and warrant that you are of legal age to form a binding contract with Ladurée and meet all of the foregoing eligibility requirements. If you do not meet all of these requirements, you must not access or use the Website.

II. Intended Users
This Website is operated in the United States of America and is only intended for users who are located in the United States. We make no representation that the Website or any materials or Content, as hereinafter defined, available thereon, are appropriate or available for use in locations other than the United States. Those who choose to access this Website from other locations outside of the United States do so at their own initiative and are responsible for compliance with local laws, if and to the extent local laws are applicable. 

III. Intellectual Property Ownership and Restrictions
The entire contents of the Website, including without limitation, all information, software, code, data, text, displays, images, video and audio, logos, slogans, trade names, product/service names, domain names, and the design, selection and arrangement of the Website as a collective work and/or compilation (collectively the "Content") is protected by laws of the United States and international laws regarding copyrights, trademarks, trade dress, unfair competition and other intellectual property or proprietary rights, and is owned, controlled and/or licensed by us or any other party attributed as the owner or provider of any aspect of such Content. You must abide by all copyright notices, attribution information, or restrictions contained in any Content accessed through the Website. Nothing on the Website shall be construed as conferring any license under any intellectual property right, including any right in the nature of trademark or copyright of Ladurée or any third party, whether by estoppel, implication, or otherwise.
IV. Website Access and Limited License
We grant you a non-exclusive, non-transferable, limited right to access, use and display the Website and its Contents for your personal, non-commercial purposes only. You may download a copy of the Website, and any Content therein, for permitted uses under this limited license, provided that you maintain all copyright, trademark, service mark notices and other attributions contained in such Content (including without limitation, with respect to the copyrights, trademarks and service marks of Ladurée, its affiliates, or any third parties that are identified). Except as otherwise provided herein, you may not copy, modify, create derivative works from, publicly display or perform, republish, transfer, sell, download (other than page caching on your web browser), store, transmit or exploit this Website or any portion thereof without express prior written consent from Ladurée. In addition, you must not reproduce, resell, or otherwise exploit for any commercial purposes any products or services provided on or through this Website or any Content. We reserve the right, in our sole discretion, to terminate or suspend your access to, and/or use of, the Website, or any portion thereof, at any time, with or without notice if we have reason to believe you have violated, or have attempted to violate, these Terms of Use.
V. Personal Data & Account
You may create a customer account at no charge on the Website (the "Account"). Such Account may be created by completing the form offered on the Website an providing the required identification information. You hereby agree to provide only true, accurate, current and complete information. This account is strictly personal to you and allows you to identify yourself before validating an order to purchase our products under our Terms of Sale. During the creation of the Account, you choose a username and a password. The usernames and passwords are personal and confidential. While we take all reasonable precautions and are committed to protecting any personal data we receive, it is your responsibility to keep your password confidential and not to disclose it to a third party for any reason whatsoever. If, notwithstanding the foregoing obligation, you allow another party to use your account, you will be responsible for making such party aware of these Terms of Use and for the use of the Website by such party in accordance therewith. In the event you suspect the use of the username and password by a third party you must immediately alert us of such use.
VI. Privacy Policy
Our Privacy Policy describes our privacy practices with regard to information collected from you when you use the Website and is hereby incorporated by reference into these Terms of Use. By using the Website, you consent to all actions taken by us with respect to your information in compliance with the Privacy Policy. Please see our Privacy Policy
here
for information regarding the collection and use of personal information from the Website.  
VII. Prohibited Uses
You may use the Website only for lawful purposes and in accordance with these Terms of Use. You hereby agree not to use the Website:
In any way that violates any applicable federal, state, local or international law or regulation (including, without limitation, any laws regarding the export of data or software to and from the U.S. or other countries);
To impersonate or attempt to impersonate Ladurée or a Ladurée employee, another user, or person or entity (including, without limitation, the use of e-mail addresses associated with any of the foregoing); or
To engage in any other conduct that restricts or inhibits anyone's use or enjoyment of the Website, or which, as determined by us in our sole discretion, may harm Ladurée or users of the Website, or expose them to liability.
You further hereby agree not to:
Use the Website in any manner that could disable, overburden, damage, or impair the Website or interfere with any other party's use of the Website, including their ability to engage in real time activities through the Website;
Use any device, software or routine that interferes with the proper working of the Website;
Use any robot, spider or other automatic device, process or means to access the Website or to obtain user or other information from the Website (including, without limitation, any information residing on any server or database connected to the Website);
Use any manual process to monitor or copy any of the Content on the Website or for any other unauthorized purpose without our prior written consent;
Introduce any viruses, trojan horses, worms, code, or other material which is malicious or technologically harmful;
Attempt to gain unauthorized access to, interfere with, hack into, decrypt, damage or disrupt any parts of the Website, the server on which the Website is stored, or any server, computer or database connected to the Website (including, without limitation, attacking the Website via a denial-of-service attack or a distributed denial-of-service attack); or
Attempt to decompile, reverse engineer, or disassemble any software or other products or processes accessible through the Website.
VIII. User Communication
By inputting data or engaging in any other form of communication (individually or collectively "Communications") to or within the Website, you grant to us a perpetual, worldwide, irrevocable, unrestricted, non-exclusive, royalty-free license to use (including use for promotional and advertising purposes), copy, license, sublicense, adapt, distribute, display, publicly perform, reproduce, transmit, modify, edit and otherwise exploit such Communications and any ideas or materials contained in such Communications, in all media now known or hereafter developed. You warrant that you have all rights necessary to grant such license to us and waive all rights you may have to inspect and/or approve of any use by us of any material or idea submitted by you in any Communications or receive any compensation for such use. You also waive all rights to any claim against us for any alleged or actual infringements of any proprietary rights, rights of privacy and publicity, moral rights, and rights of attribution in connection with such Communications. You agree and understand that Ladurée is under no obligation to use any material or ideas submitted by you in any Communications in any way whatsoever. You acknowledge that by submitting Communications to us or the Website, no confidential, fiduciary, contractually implied or other relationship is created between you and us, its parent, affiliates, subsidiaries, or agents other than as set forth in these Terms of Use.
IX. Indemnification
You agree to indemnify, defend and hold harmless Ladurée including their parent, affiliates, subsidiaries and their respective officers, directors, managers, agents, employees, shareholders, service providers, suppliers, licensors and licensees (collectively the "Ladurée Indemnitees") from and against any and all losses, damages, expenses, fees, costs, expenses or other liabilities whatsoever and all reasonable, out-of-pocket attorneys' fees and other associated costs incurred by the Ladurée Indemnitees in connection with any claim, matter, action, cause of action, or suit, whether civil, criminal, administrative or investigative (each, a "Claim") brought against Ladurée Indemnitees by any third party arising out of or relating to your use of the Website or breach of these Terms of Use by you or any user of your Account. We reserve the right, at your own expense, to assume the exclusive defense and control of any such Claim subject to indemnification by you and you shall not in any event settle the same without our prior written consent.
X. Hyperlinks
The Website may link to other internet websites and resources, including to the websites operated by affiliates, sponsors, advertisers and any other third parties. The inclusion of any link to such websites on the Website does not imply the endorsement, affiliation or recommendation by us of such other website(s), and is for your reference and convenience only. We have no control over such other websites or their policies and expressly disclaim all responsibility or liability in connection with such other websites or their contents, including the accuracy thereof. You should direct any concerns regarding any link or other website to the site administrator or webmaster of such other website. Linking to any third-party website is at your own risk and subject to the terms and conditions of use of such third-party website(s), which you should review carefully before engaging in any transactions on such website(s).
XI. Terms of Sale
All purchases through our Website or other transactions for the sale of products or services from or through the Website or as a result of visits made by you are governed by our Terms of Sale, which are hereby incorporated into these Terms of Use. You may refer to our Terms of Sale
here
XII. Errors, Inaccuracies and Omissions
We have made every effort to display as accurately as possible the pricing and availability, colors, description of products, or other Content that appears on this Website. However, this Website may contain typographical mistakes, inaccuracies, errors or omissions, some of which may relate to pricing and availability, colors, description of products, or other Content on this Website. We reserve the right to correct any typographical mistakes, inaccuracies, errors or omissions at any time and to change or update information at any time without prior notice to you. Most of our products displayed on the Website are available in select Ladurée stores in the United States and select foreign markets while supplies last. In some cases, merchandise displayed for sale on the Website may not be available in Ladurée stores or may not accurately reflect inventory available for sale on the Website at that time. In-store pricing may sometimes differ from online prices and prices may change without notice. The prices displayed on the Website are quoted in U.S. Dollars and are valid and effective only in the United States.
XIII. No Representations or Warranties for Website
Ladurée makes no representations or warranties that the Website is free of defects, errors, viruses, or other harmful components. We shall not be responsible for any damages or loss that may result from the hacking or infiltration of the Website or of Ladurée's computer systems.
 
EXCEPT AS OTHERWISE SPECIFIED IN WRITING BY US, TO THE EXTENT PERMITTED BY APPLICABLE LAW, THE WEBSITE AND ALL INFORMATION AND CONTENT MADE AVAILABLE THROUGH THE WEBSITE ARE PROVIDED "AS IS." LADURÉE DOES NOT MAKE ANY WARRANTY OF ANY KIND, WHETHER EXPRESS OR IMPLIED, INCLUDING, BUT NOT LIMITED TO, ANY WARRANTY OF NON-INFRINGEMENT, FITNESS FOR A PARTICULAR PURPOSE, OR MERCHANTABILITY, NOR DOES IT IN ANY WAY GUARANTEE THE QUALITY, DATA CONTENT, ARTISTIC WORTH, OR LEGALITY OF ANY INFORMATION OR CONTENT THAT IS MADE AVAILABLE OR OBTAINED BY WAY OF THE WEBSITE. WE DO NOT WARRANT THAT DEFECTS ON THE WEBISTE WILL BE CORRECTED. SOME JURISDICTIONS DO NOT ALLOW THE EXCLUSION OF IMPLIED WARRANTIES, IN WHICH CASE THE ABOVE EXCLUSION MAY NOT APPLY.

XIV. Limitations of Liability
EXCEPT WHERE THIS EXCLUSION OR RESTRICTION OF LIABILITY WOULD BE VOID OR INEFFECTIVE UNDER APPLICABLE LAW, IN NO EVENT SHALL LADURÉE BE LIABLE FOR INDIRECT, SPECIAL, INCIDENTAL OR CONSEQUENTIAL DAMAGES (INCLUDING, WITHOUT LIMITATION, LOST PROFITS, LOSS OF DATA, LOSS OF REVENUE, FAILURE TO REALIZE SAVINGS OR OTHER BENEFITS, LOSS OF OPPORTUNITY, LOSS OF GOODWILL, OR LOSS OF REPUTATION), WHETHER BASED ON CONTRACT, TORT OR ANY OTHER LEGAL THEORY, EVEN IF YOU OR WE HAVE BEEN ADVISED OF THE POSSIBILITY OF SUCH DAMAGES. SUBJECT TO THE FOREGOING EXCEPTIONS, IN NO EVENT SHALL LADURÉE'S LIABILITY UNDER THIS AGREEMENT EXCEED THE AMOUNT OF $200. NOTWITHSTANDING ANYTHING TO THE CONTRARY IN THIS AGREEMENT, IN THE CASE WHERE NO AMOUNT WAS PAID, LADURÉE SHALL HAVE NO LIABILITY FOR ANY DAMAGES WHATSOEVER.
XV. Applicable Law and Jurisdiciton
The Terms of Use shall be governed by, and construed in accordance with, the internal laws of State of New York applicable to contracts executed and fully performed within the State of New York, excluding (i) any conflicts of law or principles that might refer the governance or construction of the Terms of Use to the laws of any jurisdiction other than the State of New York, and (ii) the provisions of the 1980 United Nations Convention on Contracts for the International Sale of Goods. The parties agree to submit any matter or dispute resulting from or arising out of the execution, performance, interpretation, breach, or termination of this contract to the non-exclusive jurisdiction of Federal or state courts within the City of New York, County of New York, and State of New York. Ladurée and Customer agree that service of any process, summons, notice or document in such manner as may be permitted by law, shall be effective service of process for any action, suit, or proceeding in the State of New York with respect to any matters to which it has submitted to jurisdiction in this Section XV. Ladurée and Customer irrevocably and unconditionally agree that they are subject to, and hereby submit to, the non-exclusive, personal jurisdiction of the courts located in City of New York, County of New York, and State of New York for any action, suit, or proceeding arising out of the Terms of Sale or the transactions contemplated hereby, and waive any objection to the laying of venue in the United States District Court for the Southern District of New York, or the New York County courts if the Federal jurisdictional standards are not satisfied, and hereby further irrevocably and unconditionally waive and agree not to plead or claim in any such court that any such action, suit, or proceeding brought in any such court has been brought in an inconvenient forum. To the fullest extent permitted by applicable law, Customer hereby irrevocably waives all rights to a trial by jury and the right to interpose counterclaims or setoffs of any kind and description in any litigation arising hereunder.
XVI. Severability
If any provision or any portion of any provision of these Terms of Use shall be deemed unlawful, void, or for any reason unenforceable, then such provision or portion of such provision shall be deemed severable from the remaining Terms of Use and shall not affect the validity and enforceability of any remaining provisions.
XVII. Entire Agreement
These Terms of Use (including our Privacy Policy, Terms of Sale and any other documents or policies incorporated herein or therein by reference) constitute the entire agreement between you and Ladurée with respect to the subject matter hereof and supersede all prior and contemporaneous understandings, agreements, representations, and warranties, both written and oral, regarding the Website. 
XVIII. No Waiver
If Ladurée does not insist on strict performance of your obligations under these Terms of Use and any documents expressly referenced herein, or if Ladurée fails to exercise any of its rights and remedies contained in the Terms of Use and any documents expressly referenced herein, or under applicable law, this shall not constitute a waiver of such rights or remedies on behalf of Ladurée and shall not relieve you from such obligations.
XIX. Contact Information
If you have any questions about these Terms of Use or want to request permission to reproduce Content from this Website, please contact us either (i) by e-mail at ladureeus@laduree.com, (ii) by mail here, or (iii) by telephone at: +1 (646) 895-8981.