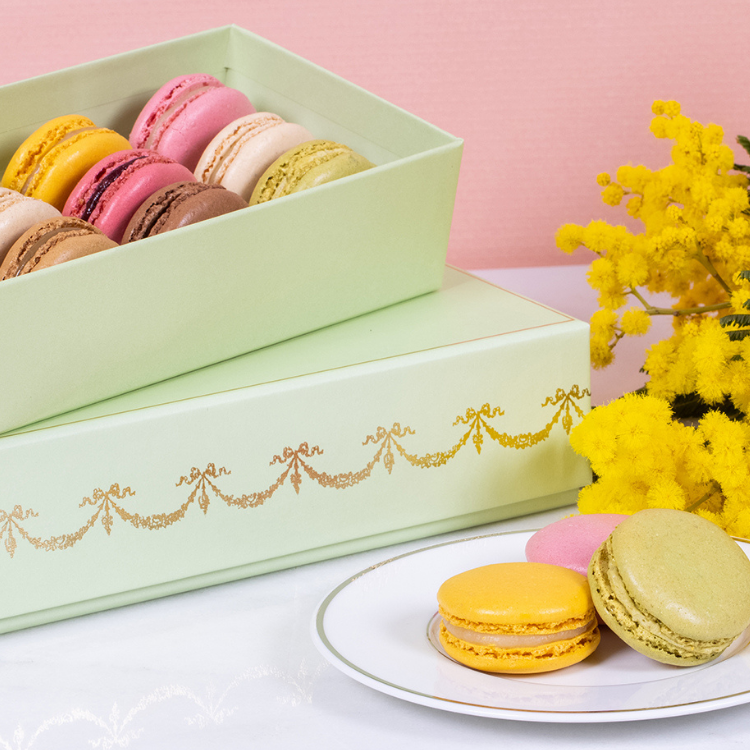 Protection of personal data
Privacy and cookies policy
BY USING OR ACCESSING THIS WEBSITE YOU CONFIRM YOUR ASSENT TO AND ACKNOWLEDGMENT OF THE PRIVACY POLICY SET FORTH BELOW. IF YOU DO NOT AGREE WITH THIS POLICY, PLEASE DO NOT USE THIS WEBISTE. WE RESERVE THE RIGHT TO REVISE THIS PRIVACY POLICY AT ANY TIME FOR ANY REASON BY UPDATING THIS POSTING AND YOUR USE AFTER SUCH CHANGE CONFIRMS YOUR ACCEPTANCE OF THE CHANGED TERMS. PLEASE CHECK THIS POLICY PERIODICALLY FOR CHANGES.

In order to make your visits to the Ladurée website at https://www.laduree.us/ (the "Website") as responsive as possible, we collect information when you visit the Website. To help ensure an enjoyable online experience for all of our visitors, we provide this summary of the information that the Website collects and how the Website uses such information. We gather certain types of information about our users, and we believe that you should fully understand our policy and terms and conditions surrounding the capture and use of that information. This Privacy Policy applies only to the information collected online by the Website. Unless otherwise provided herein, "Ladurée", "we", "us" and "our" shall all mean Ladurée USA Inc.

Capitalized terms used but not defined herein shall have the meanings assigned to them in the Terms of Sale or in the Terms of Use, as applicable.

A. Information Collected Online
1. General Browsing
 The Website gathers navigational information about the areas of the Website that visitors visit. This information allows us to see which areas of our Website are most visited and helps us improve the quality of your online experience by providing more of the most visited and desired features and services. Additional non-personally identifiable information such as domain type, browser version, and service provider may be collected, which will provide information regarding the general use of the Website.
2. Personally Identifiable Information We Collect
a. The Website collects personally identifiable information from you only when you voluntarily provide us with this information. You can provide us with this personally identifiable information in many instances throughout our Website, including when you interact in the following ways: establishing a customer Account; taking a survey; contacting us with a comment or question; signing up to receive emails or "push" notifications (collectively, "Notifications") about our promotions and services; or applying for a job online.
 
b. Categories of personally identifiable information collected online include your name, address, gender, month and day of birth, email address, telephone number, mobile phone number, and any other information you choose to provide. Specifically, we may collect the following categories of personally identifiable information from you or other sources:
i. Identifiers. We get identifiers directly from you or from third parties like data brokers or social media platforms. Identifiers are things like your name or contact information. We use these to provide and improve the features on the Website and products you request; for registration, contests and promotions; to communicate with you to provide information; to provide personalized content, information and to send you brochures, coupons, samples, offers and other information about our products; to deliver advertising; and for research.
ii. Personal information contained in customer records. We get this directly from you. We use this to provide and improve features on the Website and products; to provide you with personalized content, information, and to send brochures, coupons, samples, offers and other advertising information.
iii. Sensitive personal information, including protected classification characteristics, geolocation, and precise geolocation information. We receive protected classification characteristics and precise geolocation information directly form you or third parties, such as data brokers or social medial platforms. We also get geolocation data indirectly from you (e.g., if you allow location services). We may use this information to provide and improve the features on the Website and our products; to provide you with personalized content, information, and to send brochures, coupons, samples, offers and other advertising information.
iv. Internet or other similar network activity. We receive this information from you (e.g., from observing your actions on our Website) or from third parties like data analytics providers. We use these to provide you with personalized content, information, and to send you brochures, coupons, samples, offers and other advertising information.
 
c. We collect the following specific pieces of personal information:
i. Personal contact details. This includes information like name, address, telephone numbers, or email address. For example, when you provide contact details when registering an Account or doing business with us.
ii. Information about your transactions with us. For example, your purchase history, and billing and shipping information, and other information about your use of our Products.
iii. Payment Information. This includes information from your credit or debit card, online payment account, or other payment options.
iv. Unique customer and commercial information. For example, usernames and other login credentials.
v. Demographic information. For example, data such as age, gender, hobby or activities, taste or preferences.
vi. Device information. For example, Internet Protocol (IP) address, device identifier, device's operating system, browser type, website visited before or after you visit our website, pages viewed and activities at our website, as well as interaction with advertisements. 

B. Ladurée Social Media Pages
Personal information may be collected directly by the Website through certain social media pages and may also be collected by the social media site hosting Ladurée's social media page, as applicable.
The social media sites where Ladurée has its social media pages may provide aggregate information and analysis to Ladurée about visitors' use of our social media pages. This allows us to better understand and analyze our user growth, general demographic information about the users of our social media pages, and users' interaction with content on our social media pages. Overall, this information may be used to help us understand the types of visitors and users of our social media pages and their use of the content.
C. Information We Collect If You Apply For A Job
If you want to work for us, you can submit a curriculum vitae or resume online. When you fill out an online employment application, we will collect personal data such as your name and contact details. We will use this information to evaluate you as a candidate for the position for which you applied and to contact you about the position.

D. Using Information We Collect Online
The Website uses the information it collects to fulfill any request that may be submitted by you on the Website or by email; to contact you in the event of refund transmittal difficulties; to send communications regarding our services and promotional offers; to respond to your inquiries; to conduct surveys, sweepstakes, or contests; to develop our promotional offers, services, and the Website; and to consider you for employment.
If you no longer wish to receive Notifications from the Website, please follow the "unsubscribe" instructions included on every newsletter sent by Ladurée or unsubscribe through your Account. Please be aware, however, that even if you request to be removed from our Notification marketing list, you may still receive acknowledgements and confirmations for any such request placed through the Website.
If you signed up to receive text notifications from Ladurée but no longer wish to receive these text notifications, simply follow the opt-out instructions included in each mobile message.
E. Information We Share With Third Parties
Personal information that you provide will be used for marketing and promotional purposes only by Ladurée, its affiliates, and non-affiliated third-party companies that we have specially selected to offer you promotions, products, or services. We do not otherwise rent or sell to third parties your personally identifiable information entered on the Website.
We make the names and postal addresses in our postal mailing list, sometimes categorized by purchasing information, available to our partners for their marketing purposes. If you would like to make sure that we do not disclose your name and mailing address to our partners for their marketing purposes, please email us at contact@laduree.com.
We may use third parties to assist us with the Website and our business. Some examples of the assistance that may be provided to us by third party service providers include: fulfilling Orders or requests, processing payments, providing electronic online information, monitoring site activity, providing fraud prevention services, conducting surveys, administering, and maintaining employment application information, administering and sending mobile messages, and administering emails. Some of these service providers will be located outside of the United States.
We may disclose specific information about you if required by applicable law or based on our good faith belief that it is necessary to conform or comply with the law or is necessary to protect the users of the Website, the Website themselves, or the public.
If Ladurée were ever merged with, acquired by, or to acquire another business entity, some or all of the personal information collected about you could be shared with this entity, as well as retained by Ladurée. In that event, we will make reasonable efforts to have your privacy preferences honored. 
F. Cookies
What Are Cookies and How Do We Use Them? The Website use a browser feature known as a cookie, which itself does not contain personal information, although it will enable us to relate your use of the Website to information that you have specifically and knowingly provided. The cookies are typically stored on your computer's hard drive. Information collected from cookies is used by the Website to evaluate their effectiveness, analyze trends, and administer the Website. The information collected from cookies allows us to determine such things as which parts of the Website are most visited and difficulties our visitors may experience in accessing the Website. With this knowledge, we can improve the quality of your experience on our Website by recognizing and delivering more of the most desired features and information, as well as by resolving difficulties. In addition, the Website use cookies to help keep track of promotional offers you view and to tell us whether you have visited the Website in the past. You can refuse cookies by turning them off in your browser. If you have set your browser to warn you before accepting cookies, you will receive a warning message with each cookie.
Third Party Cookies. We use third-party service provider(s) to assist us in better understanding the use of the Website. Our service provider(s) will place cookies on your computer and will receive information that we select that will inform us of things such as how visitors navigate around the Website, identify which features are most used, identify which Promotions are browsed, and aggregate information. Our service provider(s) analyzes this information and provides us with aggregate reports. The information and analysis provided by our service provider(s) will be used to assist us in better understanding our visitors' interests in the Website and how to better serve those interests. The information collected by our service provider(s) may be linked to and combined with information that we collect about you while you are visiting the Website.  
G. Text Messaging
You may elect to receive text messages from us. When you sign up to receive text messages, we will send you information about promotional offers and more. These messages use information automatically collected based on your actions while on our site and may prompt messaging such as cart abandon messages. To the extent you voluntarily opt to have text notifications sent directly to your mobile phone, we receive and store the information you provide, including your telephone number or when you read a text message. You may opt out of receiving text notifications by following the opt-out instructions included in the mobile message. 

H. Updating Your Personal Information
We prefer to keep the personal information of users who have created an Account accurate and up-to-date. To do this, we provide you with the opportunity to update or modify your personal information. You can log on to your Account with your username and password, and you will see a menu where you can update your information.  
I. Location of Personal Information
Ladurée is located in the United States, and our affiliated companies are located throughout the world. Depending on the scope of your interactions with the Website, your personal information may be stored in or accessed from multiple countries, including the United States. Whenever we transfer personal information to other jurisdictions, we will ensure that the information is transferred in accordance with this Privacy Policy and as permitted by applicable data protection laws.
J. Protecting Your Information
Ladurée protects your information using reasonable technical, physical, and administrative security measures to reduce the risk of loss, misuse, unauthorized access, disclosure or modification of your information. Some of our safeguards include firewalls, data encryption, physical access controls, and administrative informational controls. When you transmit highly sensitive information through the Website, we encrypt the transmission of that information. However, no security system is perfect, and due to the inherent nature of the internet, we cannot guarantee that data, including personal information, is absolutely safe from intrusion or other unauthorized access by others. You are responsible for protecting your password(s) and maintaining the security of your devices.
K. Retention of Personal Information
We keep your personal information to enable your continued use of the Website, for as long as it is required in order to fulfill the relevant purposes described in this Privacy Policy, as may be required by applicable law, including for tax and accounting purposes, or as otherwise communicated to you. How long we retain specific personal information varies depending on the purpose for its use, and we will delete your personal information in accordance with applicable law. When personal information is no longer needed, or in any event, after legal authority to retain it has expired, personal information will be destroyed, in accordance with applicable law and pursuant to procedures established in relation to the relevant system or process used by Ladurée.
L. Privacy Of Children On Our Website
Ladurée does not knowingly collect or use any personal information from children under the age of thirteen (13). Ladurée does not offer promotions to children under the age of thirteen (13), and all children's product promotions, if any, are for purchase by adults only. No information should be submitted to the Website by visitors less than thirteen (13) years of age.
M. Links
For your convenience, the Website may contain links to other websites that are not under our control. We are not responsible for them, and this policy does not apply to those websites or any other companies that we do not own or control. The Website does not evaluate and is not responsible for the privacy practices or the content of such websites. We encourage you to seek out and read the privacy policies on each linked site to ensure that you are comfortable with the other websites' privacy policies and practices.
N. Your California Privacy Rights
Ladurée collects different types of personal information about you online and offline, as described in this Privacy Policy. California law permits users of the Website who are residents of the State of California to request certain information regarding Ladurée's disclosure of such personal information during the prior calendar year, in addition to the names and addresses of the third parties that received such personal information during the prior calendar year for their direct marketing purposes or, if not feasible, examples of the products and services marketed by such third parties. If you would like to make such a request, please send us a letter at the following address Ladurée Soho 396 W Broadway NY 10012 New York, or send us an email to ladureeus@laduree.com with the words "California Privacy Rights" in the subject line. We will not sell your personal information to, or share it with, third party companies for direct marketing purposes without your consent. 
O. California Non-Discrimination Policy
California residents have the right not to be subject to discriminatory treatment by Ladurée for exercising their privacy rights under the California Consumer Privacy Act, and Ladurée will not discriminate on this basis.
P. Updates to Privacy Policy
As we continue to offer our visitors new and different types of content and services, the Website may modify our information collection, use, or disclosure practices. Should there be a material change to our information collection, use, or disclosure practices, it will be applied only to information collected on a going forward basis, and we will update this Privacy Policy statement accordingly.
Q. Special Cases
We reserve the right to disclose your personal information in special cases in which we have reason to believe that disclosing such information is necessary to identify, contact, or bring legal action against someone who may be causing injury to or interference with (either intentionally or unintentionally) our rights or property, other Website users, or anyone else who could be harmed by such activities. We may disclose your personal information without notice to you in response to a subpoena or when we believe in good faith that the law permits it or to respond to an emergency situation. Specific areas or pages of the Website may include additional or different provisions relating to collection and disclosure of personal information. In the event of a conflict between such provisions and this Privacy Policy, such specific provisions will apply.
R. Security Statement
We operate secure data networks provided by industry standard firewall, encryption and password protection systems to protect against the loss, misuse and alteration of information under our control. While we use reasonable efforts to safeguard the confidentiality of your information, we cannot guarantee that data will always remain secure due to transmission errors, outside events, third party hacking or other causes. We will comply with all privacy laws and make any legally required disclosures regarding breaches of the security, confidentiality, or integrity of personal data consistent with our ability to determine the scope of a breach and our obligations to law enforcement. Ladurée limits the number of employees that have access to the databases that contain personal data, and Ladurée employees are advised of the importance of confidentiality.  
S. Questions/Contact Us
If you have any questions, comments or concerns regarding our privacy practices, please email us at ladureeus@laduree.com.